Sunday, October 26th, 2014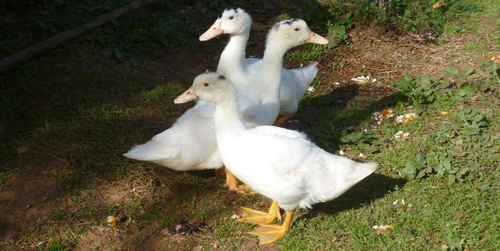 We've had the ducklings a month now, although ducklings they no longer are. They've shed most of their fuzziness and have matured into rather large, and tasty looking, birds overtaking their fellow fowl in size. The pig drinking trough has become a mini-pond cum bath for them and with the good weather they've been able supplement their chicken chow with an array of grasses and plants, not to mention the slugs, snails and puppy dog tails. Well, they would probably not take to the latter but Betty has certainly taken to them, standing and staring but I think she's met her match this time.
The ducks and chooks seem to be getting along well. The ducks are always together and less uneasy now when a chicken comes along for a cuddle up in the afternoon sun; they seem to be more aware that they're different. I think they've been a good influence on the chickens. The ducks love wandering around the whole plot and the chickens become brave enough to follow rather than staying near their house. And then at night it's vice-versa. Apparently ducks don't put themselves to bed like chickens do but our three are happy to return to the house in the evening along with their feathered friends.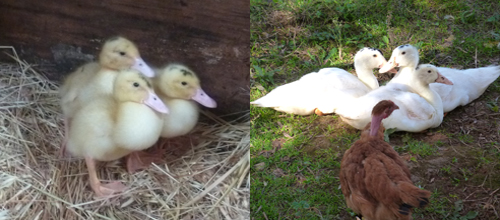 So it's been plain sailing so far. Ducks are meant to be less disease prone than chickens, and able to cope with extreme temperatures better. They cannot fly (never knew  that) so no CHeeky Charlie escapades. Our three have been a doddle, or should that be a waddle? Of course the next excitement will be Richard doing his bit with the sharp knife…