Thursday, April 14th, 2016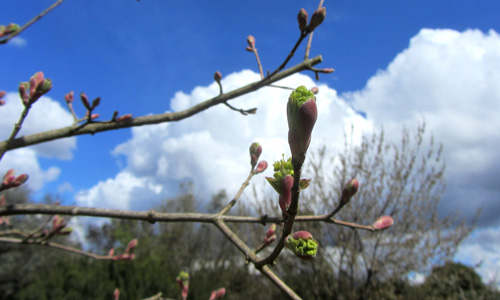 We are waiting. We are waiting for the buds to open, for the leaves to unfold, for the blossom to burst forth and for the clouds to disappear. We are waiting for the meadows to be blanketed with wildflowers. What a wet spring! A real damp squib of a season. Drizzles, downpours and drenches. Enough, no more. 'Tis not so sweet now as it was before. The tulips have failed to become a mini Keukenhof in a pot, the forsythia (which was a huge flaming bush of gold last year) has only a smattering of flowers and the pond has almost overflowed, at least the frogs are happy. So don your wellies and come down to the veg patch and see what's happening there.
Actually, not a lot! There are beds of yellow and red onions, not looking toooo bad but the garlic has suffered terribly and I fear has rotted in the mud despite being in raised beds. There are things growing though and we are eating some home grown stuff, including the purple sprouting broccoli: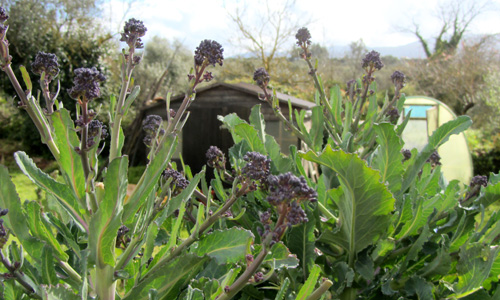 We are also eating the asparagus on a daily basis. Other crops are growing, some peas have somehow come through the wet weather and have pods on.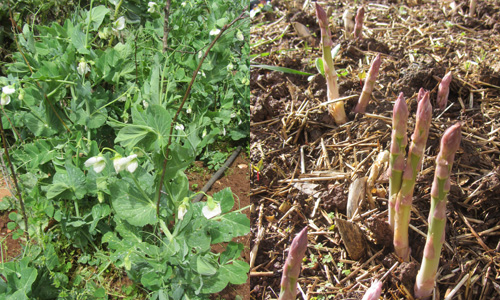 But the most dramatic crop is the fava, or broad beans. They've gone mad! They have never been too successful and I put the blame on buying English seeds. So, having had a good trial run last year, I sowed a whole load of seeds bought locally. The packet suggested putting 3 in a hole. Well, perhaps I should've thinned them because everything germinated and grew and grew. The wind and hailstones from the winter knocked everything over but they simply grew again with twisted stems. Onwards and upwards. They are taller than me, really. Should you have staked them, Richard asks. Imagine!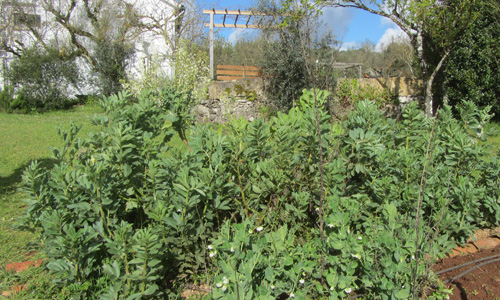 They have fallen over the paths and carried on growing, it's impossible to walk past them. The triffid bean.  We've picked a few of the pods but they need to grow more as the beans were rather small inside but I have no doubt, once the sun does come out properly, that we will have fava beans until the cows come home.
Which is just as well as there is only one bed that has been planted this year. That's where you can find the runner beans and the calabrese.  The former is very slow indeed, struggling to climb up the poles but the latter are doing well, hurrah.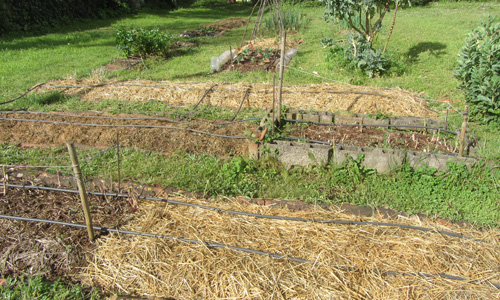 Otherwise most of the empty beds have been dug over and remulched with cardboard, grass,  straw and or compost. I'm determined to keep both the moisture and the goodness in. (I am ignoring the fact that the voles have returned). Previous years these have been full of little plants but this year I'm waiting. There are a few things in pots in the polytunnel also waiting, including courgettes and, a first for me, some gherkins.
Anyway, ending on a positive note the wait for the nightingales is over, they arrived a few days ago. Let's hope their song brings spring as well as a mate.