Tuesday, August 26th, 2014
The hunting season has started again. From now until the end of February we are greeted in the morning with the sound of shots and the yelping of hysterical dogs, just Thursdays and Sundays mind. Betty doesn't care what day of the week it is, she  frequently returns from the undergrowth panting and wide-eyed, her mouth blood-stained. She chased a young deer  yesterday. Apart from the wild boar traps (some of you will remember Betty's awful experience) I am not bothered by the hunting. The very fact it exists proves that the woods and hills nearby home rabbits, deer, foxes, mongeese (mongooses?), deer and wild boar, and plenty of other things we haven't seen. And the reason these animals exist is because their natural habitat remains: hedgerows, coppices, unfarmed meadows, deciduous and coniferous woodlands…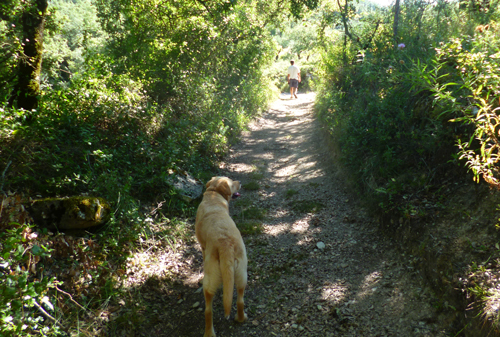 What's this to do with booze? Well, it's the hedgerows for a start. Teeming with blackberries and sloes. Which means along with the damson vodka and cherry brandy we now have sloe gin to add to our winter noggins.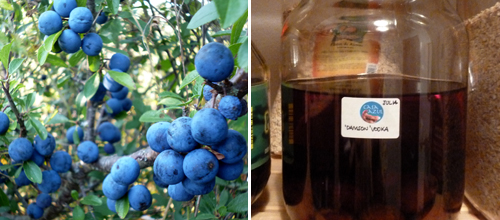 We live in the land of wine so why I'm tempted to make our own is beyond me. The quince effort, some years ago now, wasn't tooo bad. The elderflower last year was actually quite quaffable, except for the last bottle left to share with friends which had suffered from the heat of the barn.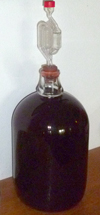 But while it's never as good as the bought stuff that's only made from grapes,  there is something romantic about country wines. So this year it's the turn of the elderberry, something I've always wanted to try. I just couldn't resist those tempting black berries. We'll let you know in a year or two!
I have to admit though that lurking in the pantry are two bottles of walnut liqueur, a kind of nocino. We had a try after a year and it was horrid. So I added some sugar, replaced the tops and shoved them back in the pantry. I'm convinced that, when we remember to try again and wipe off the cobwebs, it'll be superb. Cheers!
Oh, by the way: the hedgerows are also home to Cheeky Charlie. Yes, still on the loose among the brambles and wild roses, popping in for food and water occasionally and then back to the shade. Don't count your chickens, Charlie!