Medieval Cairo was one of the cities of "The Thousand and One Nights" and unlike Baghdad and Damascus many of its buildings from those times are still there, mostly hidden among the narrow streets and alleys of the old town. I spent many weekends searching them out to find some of them in terrible disrepair and others in remarkably good condition and still being used today. On this page I have included photos of just a few either because they are architecturally or historically notable. To show just how architectural rich Cairo really is below is a map of just part of the old city from Caroline Williams' excellent book "Islamic Monuments in Cairo"
From top to bottom is about 1.5kms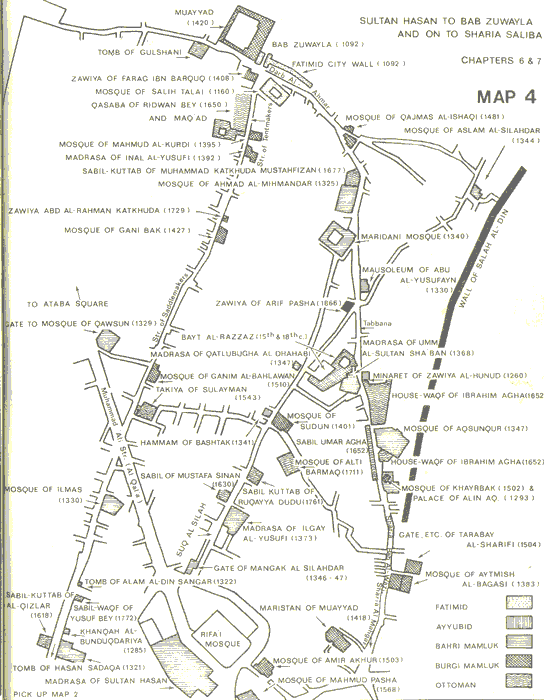 By Middle Eastern standards Cairo is actually rather young (the ancient Egyptian's capital, Memphis is a few kilometres to the south). It was founded during the Arab conquest in 641. Our earliest building, the mosque of Ibn Tulun was built 200 hundred years later in 876, but is important as it is the oldest intact functioning Islamic monument in Cairo and a rare example of the art and architecture of the classical period of Islam. The domed building seen in the courtyard is from a later restoration, but the minaret was inspired by the Great Mosque of Samarra which in turn was inspired from the ziggurats of Babylon.