Jordan's deserts comprise 80% of the land area but only 5% of the population. the biggest desert starts as the suburbs of Amman peter out and continue East to the Iraqi, Syrian and Saudi borders. The area is mainly desolate as you'd expect but there are a few highlights, both natural and man-made. One of these is Azraq oasis which used to provide water for roaming herds of animals. Unfortunately since the 1960's it has had to supply water to Jordan's burgening population and has therefore become an environmental disaster to such an extent that the the wetlands dried up completely. Since 1994 water has been pumped back into the wetlands but into a tiny area compared to previous years. However, it is still an important stopover point for migrating birds which can still be seen, mainly in spring. And that is why we chose this time of year to visit.
In addition to the Oasis we also wanted to see the nearby Shaumari reserve. Established in 1975 it was set up to reintroduce wildlife that had disappeared from the region most notably the Arabian Oryx.
The man-made highlights of the region are the so-called 'desert castles', only one of which being a castle - Azraq - famous for sheltering Lawrence of Arabia during the arab revolt in 1917. Other so-called castles include Qasayr Amra, a former bath house complex built around 700AD and Qasr Kharana a building standing alone in the deep desert, its function and history almost completely unknown.
Leaving Amman behind we are soon deep into the desert.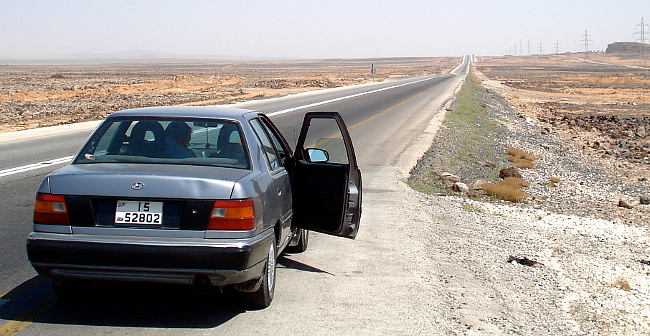 We stayed in Azraq lodge - the former British Military hospital during WWII. It has been very tastefuly renovated by the Royal Society for the Conservation of Nature (RSCN). It's very modern but still has a nostalgic 1950's feel to the place. (Tel:3835017) The RSCN are also responsible for the Azraq and Shaumari Reserves so staff at the lodge can give you information about them. One such piece of information which the RSCN in Amman (at Wild Jordan) hadn't told us was that the Shaumari Reserve was closed and had been for almost a year! (this was in 2008). Even so they managed to organise a night safari for us (see later).