August 2016
In the middle of the boiling hot summer that was August 2016 we decided to take a few days away in the mountains of the Serra da Estrela. We had managed to book a house in the village of Videmonte, not far from Guarda, big enough for two adults and two hairy ones. It was a fairly short drive so we decided to stop off on the way in Guarda for lunch and a bit of a mooch. Like many places in Portugal there is an historic old centre, on a hill, with a more modern part below. And just like other similar places we found the historic old quarter fairly deserted apart from a few tourists wandering the cobbled streets. Guarda is the highest city in Portugal and despite the sun, there was quite a cool breeze gusting down those narrow alleys. However we were soon out in the open in the large central square with its attendant cafes - actually more reminiscent of Spanish cities than Portuguese. No doubt I suppose due to the fact that we were so close to the border. The old gothic cathedral facing the square was interesting, rather than lovely, as it was quite squat and austere, almost fortress like. In contrast the inside was light and graceful and we also happened upon a wedding in progress - there was life in the old town after all. Back outside we went sniffing down a typical narrow alley and found a cosy restaurant for lunch offering the usual Portuguese fayre - grilled pork or bacalhau. After our little break we headed off into the Serra da Estrela proper and on to the village of Videmonte.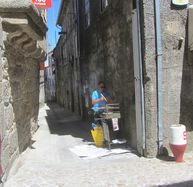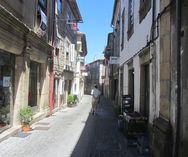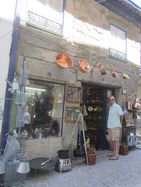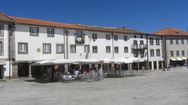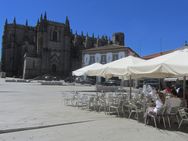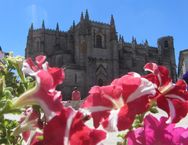 Videmonte is quite small but attractively situated along a short ridge. The houses are clustered close together and built of a mixture of huge granite blocks and slate-like shist. There is one main road going up through the village to the church and our house was very close to this. Nearby was the more modern community centre which also had a very handy roof-top bar which was the only place we could get wi-fi. There were a few cafes in the village but none sold petiscos (snacks) except the community centre bar so this is where we enjoyed the sunsets with a glass of red and a tosta mista (ham and cheese toastie). The house itself, Casa Retiro de Xisto was very comfortable with all the facilities you would expect and we spent a very quiet and restful first night in the Serras.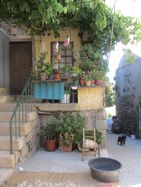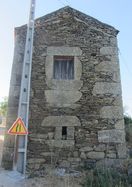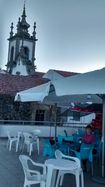 We were up early on our first day proper. I usually look for the official walking tracks in Portugal. You can often download the map and they are usually clearly marked on the ground with yellow and red stripes and therefore easy to follow. There are 3 main long paths running all the way through the Serra da Estrela but no official short routes around the village so I relied on a couple I found on wikiloc.com. One departed right from the village so we set off on this one. The whole walk was 13kms long, which ordinarily wouldn't have been a problem but as we were going quite slowly because of the heat and taking it easy we followed a shorter route eventually doing just over 9kms in 3 hours. As there were no trees at all it was very hot but very pretty, views all the way to Guarda and the dried yellow grass contrasting with stands of green scrub. We only saw one other person, a goatherd with his flock of goats and sheep which were ably guarded by four big Estrela Mountain dogs. Fortunately, in my experience, they are loud rather than aggressive, however, we still gave them a wide berth.