The Riax Baixas Sept 2019
For us, September is holiday time and it usually means a road trip into Spain. We had an ulterior motive this time - we were also looking for a possible place to live.
We had decided to head due north from our house in central Portugal to the Rias Baixas of Galicia. It was motorway most of the way so it only took us 3.5 hours to get to Camping Aldan. As it hadn't taken us too long we had arrived in time for lunch. The campsite is only a short walk from a beach which in turn was overlooked by a seafood restaurant. This was another reason for coming to the Rias Baixas - the seafood. After lunch we were back to the campsite and as it was September we pretty much had the place to ourselves.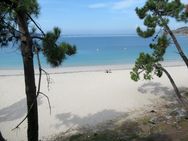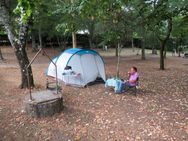 The following day we were off to Pontevedra, the main town of the area. It's a solidly built town with many attractive buildings and pedestrianised old streets. Of course one of the places we headed to first was the fish market. What a variety of seafood.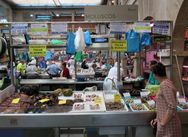 But of course one of the other things we like to do is walk in the countryside and we weren't disappointed on this front either. There are plenty of marked walking trails and interesting old villages in the hills outside of town. This trail was near Ponte Caldelas and then on the village of As Bolinas.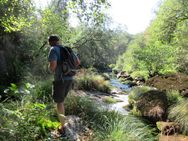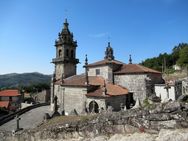 One of the most popular things to do, is simply take a drive along the coast. There are quite a few interesting little towns such as Combarro, Sanxenxo, A Toxa and Cambados, where we had another delicious seafood lunch at the Fonte do vino restaurant. We also visited the interesting Museo Etnografico e do vino where we saw exhibits connected with the region's wine and culture. Perhaps we were more interested in the excellent white wine which we sampled on more than one occasion on this trip.