Saturday 10th May 2008, Madrid
Not an auspicious arrival into Spain – torrential rain. We were, however, met by our friend Ben at the airport to take us to his apartment in central Madrid and by the time we ventured out for the evening in search of sustenance the rain had turned to drizzle. The was my first experience of Spain and my first impression was that everything was...small! Inner city apartments in a European capital city are necessarily small for anyone but multimillionaires these days but I was surprised by the narrow streets and the small scale of the Metro – not the lack of a network, for there were hundreds of stations but the size of the passageways and the trains themselves. I was told it was notorious for pickpockets but we survived with cash intact into the downtown area of Tribunal (named after the nearby Metro station). In the bar we ordered some food – that was small as well but it was meant to be. I had come in search of Tapas and found it. Every bar has a section devoted to making these small delicious snacks and although most nowadays don't give them free with a round of drinks they are a must to try. Our first plate was full of Boquerones which remained my favourite for the whole trip – anchovies in vinegar and olive oil. Doesn't sound much but oh what a taste sensation! This was washed down by the local drink – Vermuth, which was actually on tap and also delicious.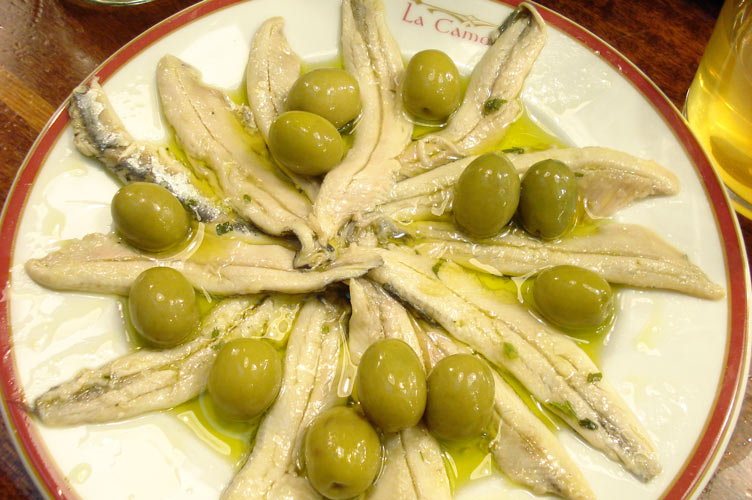 Food and drink became a highlight of our three days in Madrid. Forget the Prado, I took in my fill of culture in the numerous tapas bars. Not just tapas though, we went on a culinary journey of Spain. The following night we went to a Galician restaurant, famed for its Octopus and also a flaming digestive called Orujo. It's name comes from the term aguardiente de orujo which is basically 'firewater'. And I saw why. We were served with a huge porcelain bowl of the stuff and then it was set alight. Mere brandy burns for a few seconds. This stuff was burning for ever! No surprise I suppose as it has a lethal amount of alcohol in it.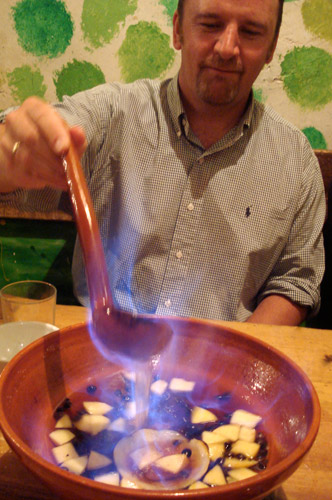 Next up we went to Casamingo's, a famous old Madrid restaurant which specializes in Asturian food (Asturias is an area of Northern Spain) especially the roast chicken and abada (stew of haricot beans and pork). Of course they had a special drink as well. Asturias is famous in Spain for its Apple cider. There were two sorts available. One with fizz, for drinking straight out of the bottle but more traditional was the still version which is given a bit of fizz by being poured into your glass from a great height. Not surpirisingly most of mine ended up on the floor but what I did manage to taste was delicious and I'm not much of a cider drinker.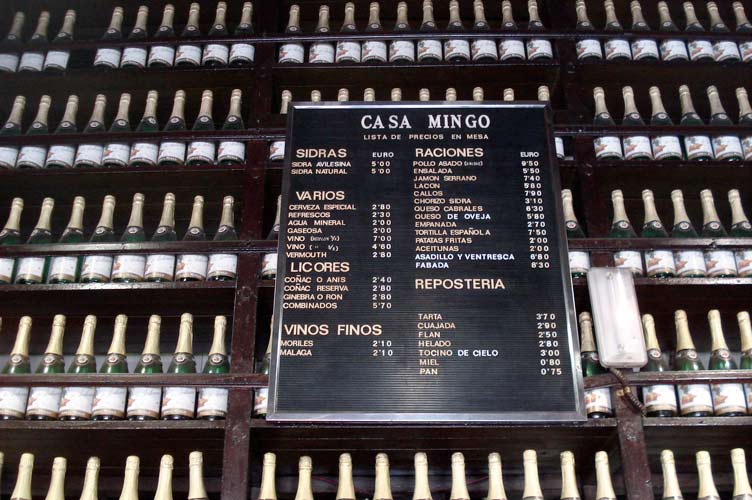 We also tried many of the traditional bars which are found on almost every street corner. Many seemed to stick to one or two favoured drinks. We went to a couple of Vermuth bars and another which seemed to only serve fino (sherry). At one place we had to crawl under the bar past the bartender to get to the toilet and another was so ornate it looked like the Folies Bergere. I was half expecting Manet to pop up and start painting us. One place we ate and drank in was not even a bar, it was a butchers' shop! People were coming in buying their pork chops while we were sitting at a small table drinking wine and eating tapas. You can see the place below with large hams hanging up in the background.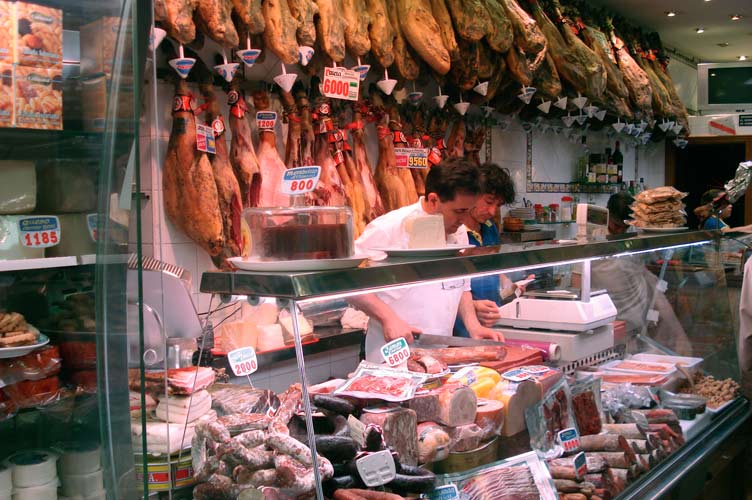 Tuesday 13th
Got the bus south to Andalucia. We passed the famous windmills of Don Quixote on the plains of La Macha before climbing up into the hills and crossing the narrow Despenaperros Pass which has been the gateway to the south for many centuries. Once through the pass it was obvious we were in olive territory. Spain produces nearly half of the world's olive oil and most of it comes from Andalucia. However, it is also famous for a product of the numerous vineyards to be seen. This was the centre of the world's Sherry industry, or Fino as they call it in Spain. And we were to sample quite a few of the varieties over the next few days.
Madrid to Cordoba is 5 hours on the bus and we got to our homestay without too much trouble. In common with the other towns of Andalucia, there were two parts to Cordoba: the new town with the wide streets, bus station etc, and the old town with the monuments, narrow streets and the hotels. No big chain multinationals though. There is no room for them. Most of the hotels are homestays such as the Hostel El Portillo where we stayed. They might be billed as homestays and most are certainly fairly small but there is nothing small about the prices for someone who is used to Asia. We paid 45 Euros for a small but spotlessly clean room. The room at the Portillo was very similar to the other places we were to stay so I will describe it in a bit of detail. As soon as you approach the door you can see the Moorish influence. The tall building, usualy about 3 stories high gives no clues as to the size inside. Inside there is a courtyard, in previous times open to the sky but now often as not glassed in. There are some rooms around the courtyard but these are for the host family. The guest are upstairs in rooms which generally look down into the courtyard. A few lucky guests may get rooms looking out onto the street. On the roof was the area for drying the clothes and which generally gave views over similar rooftops. The rooms themselves are always spotlessly clean and usually tiled all over. En suite bathrooms are available but not common.
We had come to Cordoba for one main reason - to see the great mosque, or rather the great cathedral as it is now called. In fact it was to be both as was revealed the following day. The original mosque was completed in 786 and then expanded over the next 400 years until its interior had nearly 1300 Roman marble columns. It was a marvel of the middle ages and still is. Then in 1523, some 300 years after the Christian reconquest they built a huge cathedral right in the middle. So now you enter into a mosque and then when you reach the centre you discover the cathedral. Unfortunately while we were there they were renovating the cathedral. In fact renovations were to mar our visits to most of the sights of southern Spain over the next two weeks. However not enough to dampen our enthusiasm for this amazing building.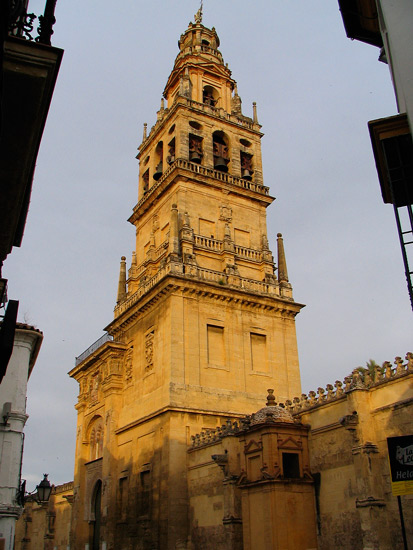 The original minaret has been converted into a bell tower for the cathedral.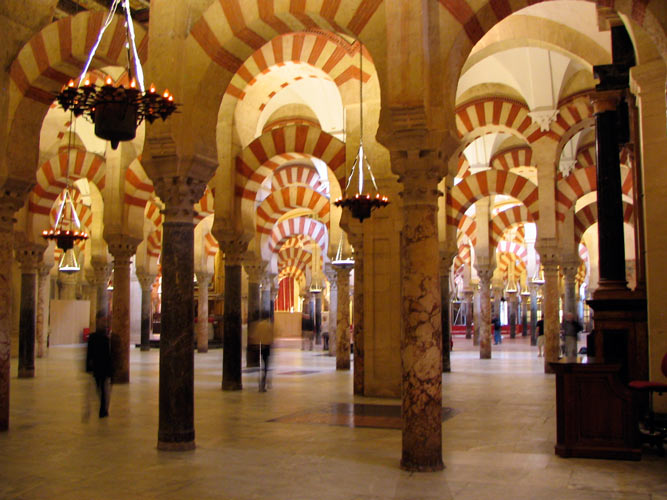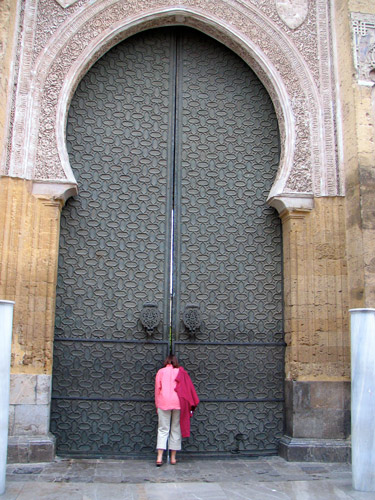 Fortunately the ornate mihrab (niche that faces Mecca) was kept by the conquering Christians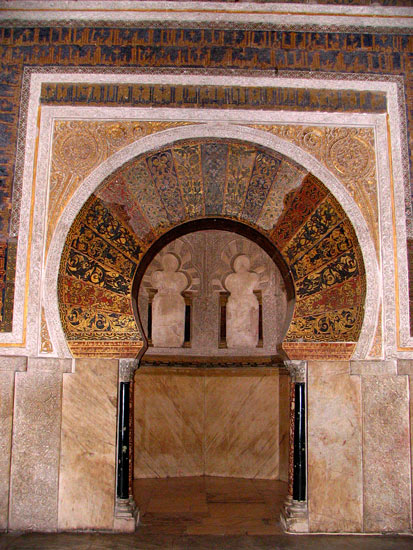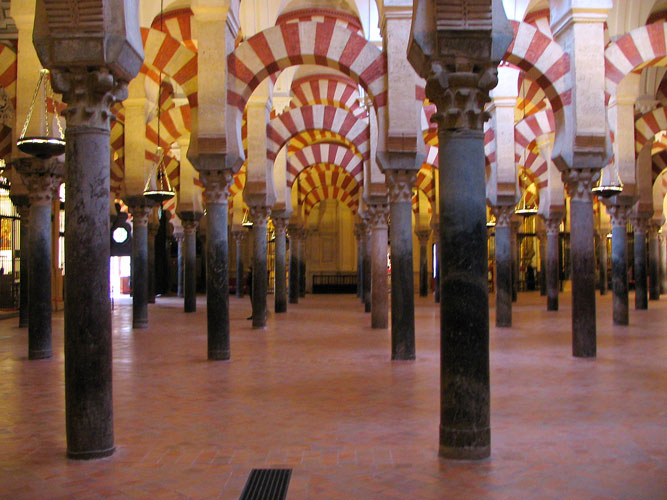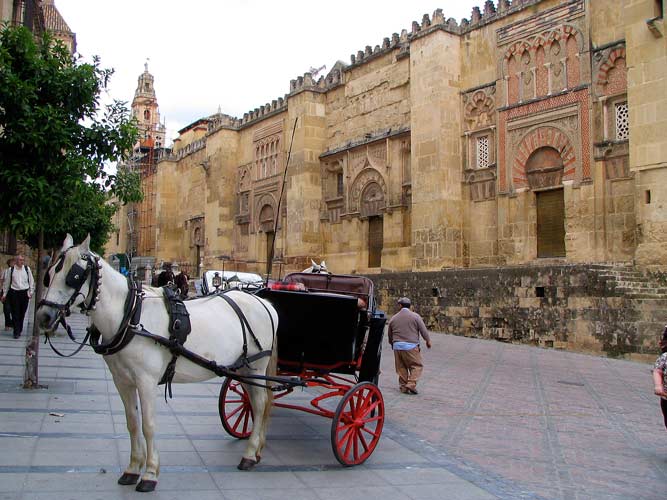 In addition to the great mosque there are plenty of other things to see in Cordoba including some great former palaces. The one below is the Palacio del Marques de Viana famous for its 12 courtyards.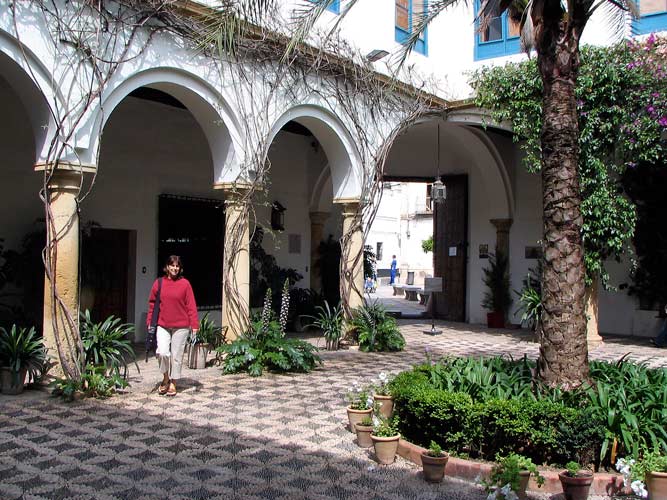 Of course we were also to see many, many beautiful tiles all over Andalucia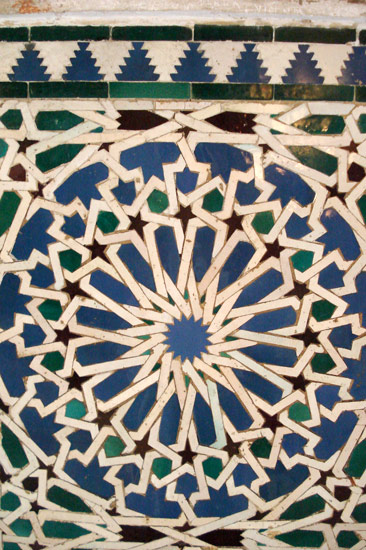 Postman negotiating one of many narrow lanes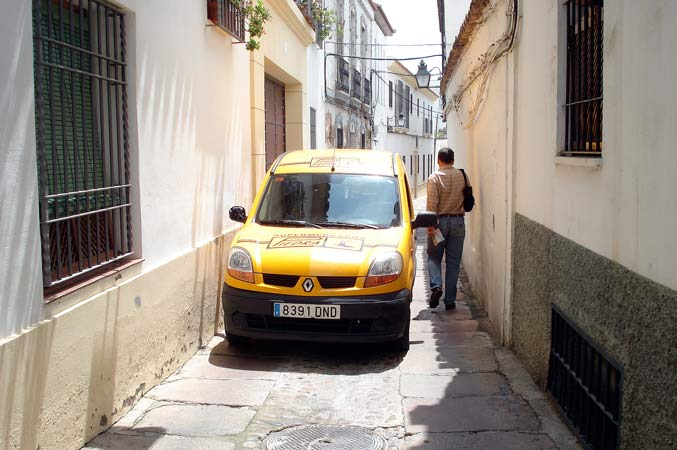 One of many churches, framed by palms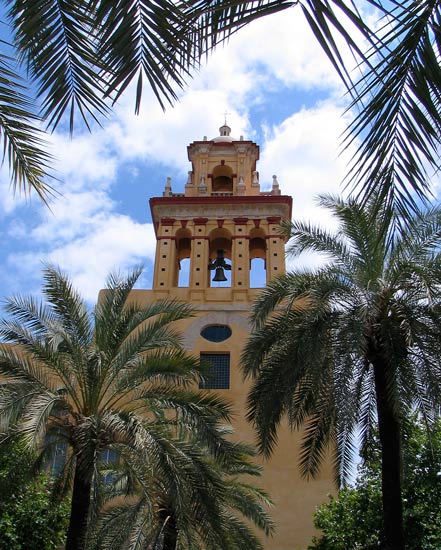 Iglesia de Santa Maria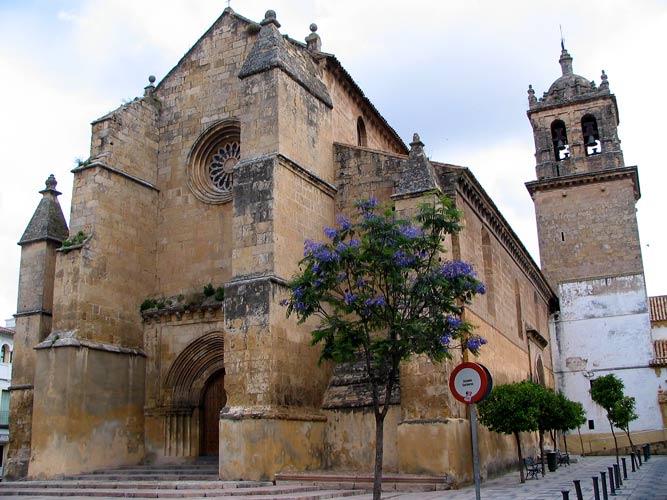 There is a pleasant walk on the 'other side' of the river to old Cordoba where you get great views of the mosque. We were also lucky enough to see these bee eaters.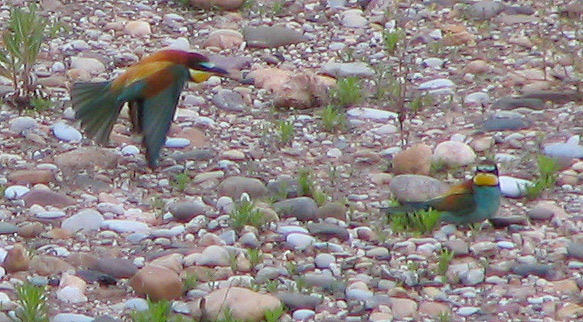 We were in Cordoba in early May so we were also lucky enough to be there at the time of the Festival of the Patios. Although very few Cordobese have gardens, they love flowers and for this festival people open up their patios for visitors to see them. There are competitions for the best patio in addition to most colourful balcony and many more. The tourist board also has a leaflet showing all the places that are in the competition.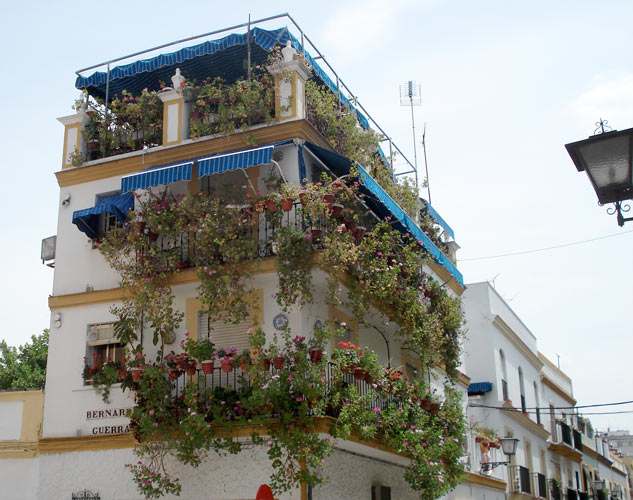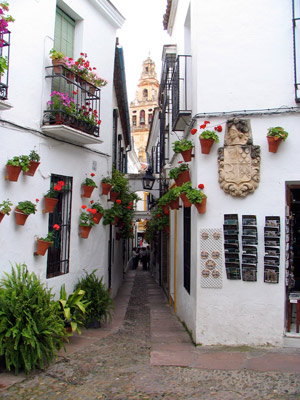 If you are interested in more information about Cordoba there is a great website hosted by the Tourismo de Cordoba