The Wild West of South East Spain Sept 2015
For us, September is holiday time and it usually means a road trip into Spain. This year was going to be a long one - 3000kms in 10 days. It was long because a friend of ours had kindly lent us his holiday apartment which happened to be located in the far South East of Spain in a little pueblo blanco called Mojacar.
As it was 900kms from our house in Portugal we weren't going to attempt the journey in just one day and we made a couple of stops along the way. One was completely unplanned and turned out to be a bit of a gem. It was Guadix which is located not too far from Granada. Travelling from West to East across southern spain this is where there is a real transition from forested hilly scenery to lowland arid plains. In fact, so arid, it is the driest place in Europe. The most interesting feature of Guadix is a result of that hot, dry climate - many of the townspeople live underground. The jagged, dry ochre terrain and the dazzling whitewashed chimneys and doors of the caves contrast with the deep blue sky and the oft snowcapped peaks of the nearby Sierra Nevada which loom above. The town has grown quite a bit over the years so the new town inhabitants live in normal houses but it is easy enough to find the original "Barrio Troglodyte". Indeed, the cave dwellers are justly house/caveproud and many have opened their caves up to tourists.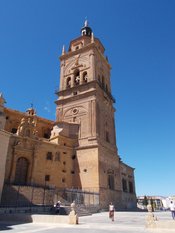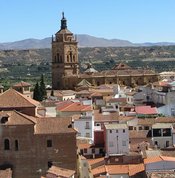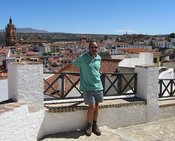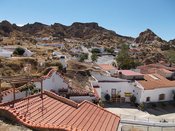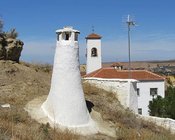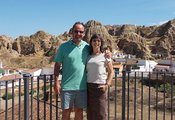 Not too far from Gaudix, we crossed into Almeria, where the dusty ochre plains make an even bigger contrast, this time with the Med. And here is where we found our destination - Mojacar. To be exact, Mojacar pueblo. I have to say that Mojacar would not be top of the list of places that either Jackie or I would choose, but free accommodation is something we don't turn our noses up at and actually it was a very pleasant place to spend a few days. Although it is almost totally devoted to tourists, it still retains something of the feel of a traditional, pretty, hilltop, picturepostcard, Andalucian village. One of the advantages is of course, that there is plenty of choice for restaurants and by avoiding the plethora of pizza places we enjoyed a number of good meals. There was also the time in the evenings to stroll the warm, narrow streets and pick up a bit of tourist tat.