Kanchanaburi is best known as the location of the original Bridge over the River Kwai (the real one - not the film location - which was shot in Sri Lanka). It is therefore firmly on the tourist trail. The bridge itself is right in the middle of town - which like many modern Thai towns is ugly, unplanned and a riot of concrete. The main drag (pictured below) could be worse - at least it's not on the main road through town but it still very ugly. By night it livens up with a number of bars (mainly of the 'girlie' variety). Having said that the various museums dotted about the town describing the WWII history of the place and the various cemeteries (including Chinese) are quite interesting and the countryside around is definitely well worth exploring.
We went for a long weekend in March 2006 and this is what we found...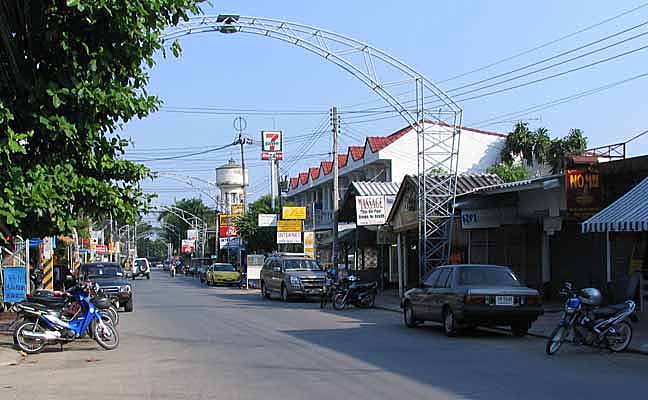 Having said that the main drag of the town is ugly, there are a few good places to stay - including Ploy Guesthouse (below). The rooms are big and clean, but the best part of it is the restaurant and the roof above where you can sit and watch life on the river, especially the wide variety of birdlife which sit and sing on the nearby trees overhanging the river. The calm serenity of the place is sometimes disturbed by the Karaoke boats which occasionally make it this far up river at weekends.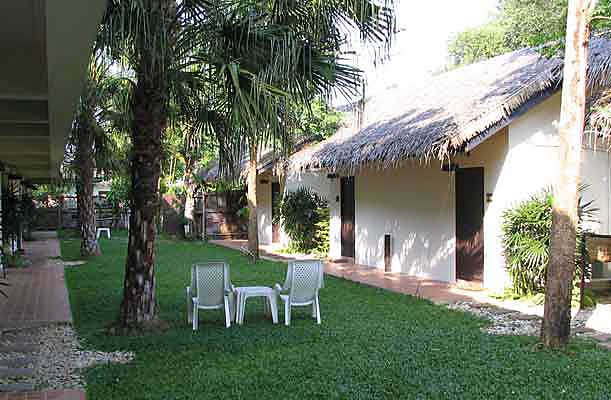 Naturally the impressive Allied Prisoners of War cemeteries get a lot of coverage - but the nearby Chinese Cemetery is no less impressive and a pleasant quiet spot with some interesting architecture.