I was told Ko Chang was the new Ko Samui, Presumably this meant it was a once pristine island on the downhill slope to environmental degradation caused by uncontrolled tourist development. Perhaps they meant it in a more positive light. I wasn't sure. I went there Christmas 2006 to find out.
There are in fact two Ko Changs (literally Elephant Island) in Thailand and probably more. I was going to the big one – down the east coast expressway until you almost hit the Cambodian border and then turn right. Driving down the highway, you don't see much. The landscape is pretty flat most of the way with few trees and just a few road side shacks selling pineapples to relive the boredom. Oh, and of course the usual construction teams in the never ending process of widening and 'improving' the road. However once you get to the end of the road and the ferry terminal, you look across the sea and see a huge mountainous, almost forbidding island rising up in front of you. I am reminded somehow of Jurassic Park. I felt a frisson of excitement, or was I just a bit nervous, as I had also just seen a rusting car ferry approaching not at all gingerly to the small pier?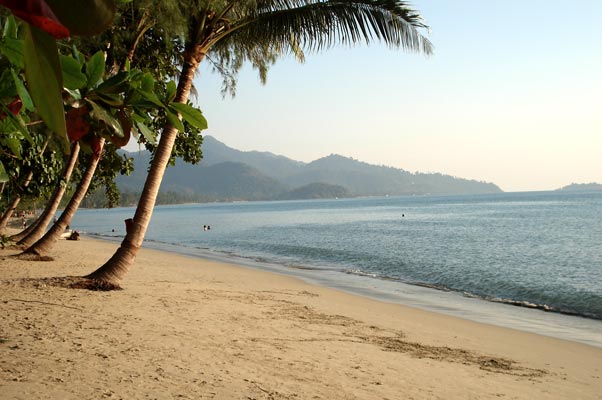 We crossed without mishap, but left the ferry stuck behind a convoy of trucks carrying construction materials ready to concrete over this beautiful island. From the ferry stop, the road rises abruptly over a small hill and then as it comes down the other side we enter tourist land. Although we knew the sparkling white beach was just metres from the road we were denied a first sight for quite some time. Not by rows of palm trees but by rows of shops, mainly suit shops as it happened along with that bastion of civilisation the 7-11. We couldn't even see these too well because of all the dust thrown up by the trucks. This was 'white sand beach' – or rather white sand beach town. Fortunately the tourist shops thinned out within 20 minutes and shortly afterwards we arrived at our destination: Klong Prau Resort. We checked in at reception but before going to our room we just had to check out the beach. We weren't disappointed. We had been promised fine white sand and clear blue-green water and we got it, swooping palm trees over the sea? Check. Only problem was, with the tide in and I mean really in, was that there was only a few feet of white sand and that was mostly covered in beach towels from the assembled crowd of lardy European tourists who had got there before us. Ah well not to worry, we can explore up the beach for a quiet spot later. We checked out the rooms and facilities and everything was fine as you would expect from a mid range hotel. It also had quite a nice little restaurant right on the beach and therefore great for a cold beer and our first sunset – perfect!