Around the outskirts of Bangkok there are many interesting nooks and crannies to explore. This page covers three: Chatuchak Market in the North, Ko Kred even further north and a walk around Thonburi, on the other side of the Chao Praya river to Bangkok, so close but yet relatively undiscovered.
The first is Chatuchak Market, one of the biggest markets in Asia. It is a huge collection of tiny stalls selling everything under the sun. Everything from kitchen utensils to second hand books to pets, clothes and furniture. At the weekend thousands of people disgorge from the skytrain to meander around its cramped and sweaty alleys. The video below was made for our podcast site, podcastsinenglish.com Not surprisingly a podcast site for learners of English. It gives the flavour of the market, all be it on one of its quieter days. Despite all the amazing temples and glitzy shopping areas of downtown, I have to say going to Chatuchak was one of my favourite things to do in Bangkok.
Ko Kred is a small island in the middle of the Chao Praya river. Many years ago Ko Kred was far away from the city of Bangkok, but over the years the city has grown around it and now runs far past. However, this small island remains timeless. There has never been a bridge to Ko Kred and being only 4 square kms in size, it's been too small to accommodate even one road. A path circles the island and that's it. It's quite a famous place however for two reasons. The families of most of its 6000 people can trace their roots back to the 16th century. They are 'Mons' and migrated from Burma at that time. They have also kept their biggest tradition, that of pottery making and that is why the place is famous nowadays. At the weekend there can be quite a few tourists, but we decided to take a look during the week. We found a very peaceful, quiet place and just a few potteries where they still make pots the old fashioned way.
Below are some photos and again a video from the podcastsinenglish site.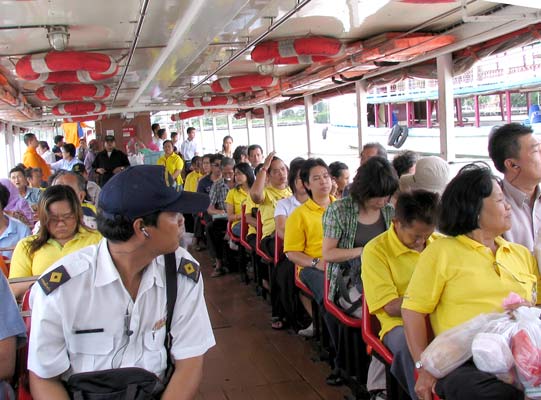 Getting to Ko Kred is quite easy. Take any of the river ferries to the northern terminal (N30) at Nonthaburi and then a taxi. (The regular ferries don't go any further north any more. You could get a tourist boat at the weekend)
It's less than 100m between the mainland and the island and you will soon find the place where a tiny boat ferries people across the river for 2 baht (3p or 5c). On the other side is quite a large temple complex which houses a sleeping buddha and a small ceramic museum