Touring Nakhon Si Thammarat province April 07.
It is said that in the 1970's a few hippies stumbled across Ko Samui and found paradise, with powder-white sands, clear turquoise water and gently swaying palms. Over the next 30 years this paradise was swamped with ever encroaching development. Now, there seems to be more concrete than sand. However, perhaps not surprisingly, just across the water from Samui there are beaches near the fishing village of Khanom, which are still in pristine condition. But for how long? We went to find out during the Songkran holiday in April 2007.
Of course most holidays for us start with an overnight train journey. I've posted pics of the inside of Thai trains before, so here's a film of the world going by outside and below that a photo of breakfast, clingfilmed and ready to go..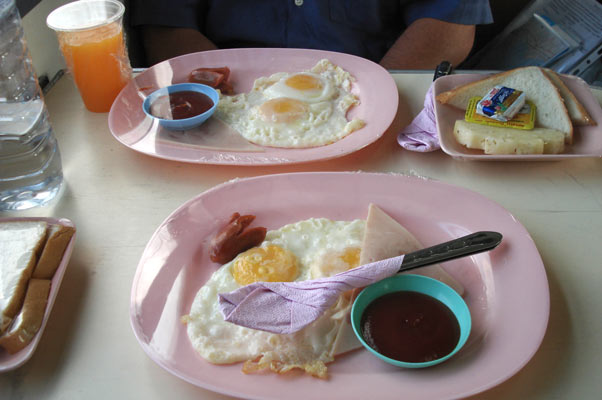 The overnight train from Bangkok, disgorged its load of foreign tourists at Phun Phin (the rail head for Surat Thani) into the waiting arms of the tourist touts waving tickets for the boats to Ko Samui. The touts were very surprised to hear that we weren't going to the islands but were headed to the mainland coast. A very strange state of affairs, for in addition to the boats for Ko Phangan and Ko Samui, there were buses to Krabi, Ko Lanta, Ko Phi Phi even Phuket. But just to Kanom, a village on the coast opposite Samui? There was nothing.
We picked up a taxi and headed into town. Regular readers of these pages will know that we were in search of our favourite form of transport – Honda Waves. It didn't take us too long, as even in Surat Thani town there are many travel agencies ready to arrange anything. Within minutes we had hired 2 bikes at 200 baht a day each. We were off on the open road.