| | |
| --- | --- |
| | The Tay/Thai is one of the largest language groups in Vietnam totalling about 3 million people. In the region they are related to the Shan in Myanmar and the Zhuang and Pu Yi in southern China in addition to the Thais and Laos. The Tay with a population of 1.2 million make up the largest section of the group, but more often than not wear clothes identical to modern Viet Kinh. The Thai number over a million and the Nung 700,000. Generally the Thai people live to the South West of the Red River and the Tay and Nung to the North East. Both groups are famous for their weaving and live in stilt houses. Other groups belonging to this language family include the Giay, Lu, San Chay, Tu Di and Bo Y. |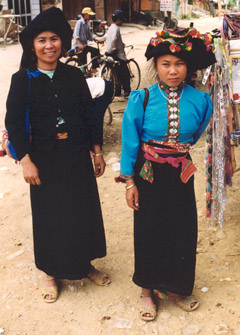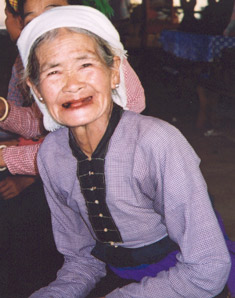 With a total of well over 1,000,000 the Thai constitute the second largest ethnic minority in Vietnam. Of the two groups, the Black Thai are concentrated in Son La and southern Lai Chau Provinces whilst the White Thai are found predominantly in northern Lai Chau and Lao Cai provinces. The traditional costume of the Thai generally comprises a coloured blouse (often green, blue, pink or purple) with a distinctive row of silver buttons down the front, a long black skirt and usually an intricately embroidered and very distinctive black headscarf as with the lady at the top from Thuan Chau. The Thai ladies above are from Than Uyen in Yen Bai province and the lady with the charming smile is from Nghia Lo in Yen Bai.
NB Travelers will encounter many White Thai people in Mai Chau village near Hoa Binh but they only wear their traditional costume when performing dances for tourists.