Week 3, Feb 2019, Jaipur
My latest trip to India was almost at an end. I was up early and checked out of the hotel, the Bundi streets were strangely quiet first thing in the morning, as was the station, but the buses were still running and I managed to catch one to Jaipur just as it was leaving. The roads were surprisingly quiet as well so it only took four hours rather than the five and a half I was expecting. Jaipur and its bus station were a bit of a shock to the system however, as it was easily the biggest and busiest city in Rajasthan. Fortunately it was only a 15 minute walk to my hotel, the Hotel Arya Niwas. Although I think built in the 1960s or 70s, it had a very "days of the Raj" feel to it. Underlined by the fact that later I was to have a slice of pineaple sponge cake and a pot of tea from a silver tea service. But back to today. As I didn't have much time, I decided to head out immediately to explore the city and then tomorrow I was to spend the whole day at the Amber fort.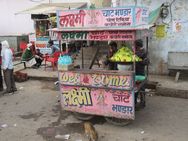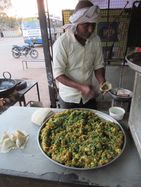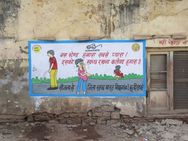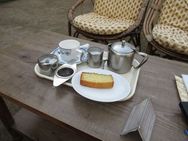 Big, busy and brash, Jaipur is Rajasthan's largest city and economic powerhouse. The manic traffic and dense crowds deter some visitors, although the city more than compensates with a stellar array of attractions. Certainly the City Palace attracts plenty. I got to the gate at the same time as some tourist coaches disgourged passengers. Not my scene. I had visited the Palace on my trip in 1994, so I decided I would rather just mooch around the streets. It's a bit of a funny place, the so-called pink city, as the streets are planned in a strict grid fashion and actually seem rather modern. It certainly lacks the ancient, crowded alleyways more common in other Indian cities. I did find a few interesting markets and people though to keep me amused. It was fairly hot and dusty, so in one back street I decided to slake my thirst at a mobile juice stall. The most disgusting drink I've had in India! I think it was carrot and beetroot with added salt. Anyway, after my mooch I was back in the relative quiet of the hotel, on the lawn, kicking back in a comfy chair, getting ready for tomorrow's trip to one of the highlights of Rajasthan - the Amber Palace.