The four routes below (in black, red, blue and white) are all trips I made on my Minsk motorbike in 2002-2003. They all took approximately one week, but varied in difficulty from the almost all tarmac and well travelled North West Loop (in black) to the almost all dirt track and least travelled Hoang Lien Mountains trip (in Red). What they all had in common was stunning scenery and amazingly colourful and friendly ethnic minority people. No doubt by now the road is much improved and busier but the scenery should still be stunning. The thumbnails on the right of the maps are pictures of ethnic minorities you will see on the particular routes. Click on them to read fuller descriptions.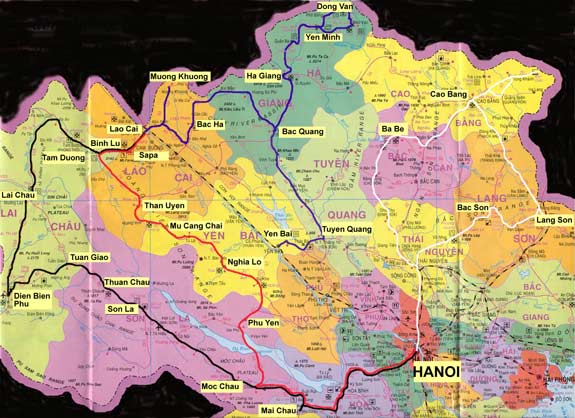 The North West Loop (in black)

By far the most popular touring route in northern Vietnam, the so-called North West Loop (in black) has been attracting intrepid travellers for years. You should be able to see all the ethnicities shown right and maybe a few more. The road is generally in a good condition, although it can be a bit tricky in places where they are upgrading it and where it has recently rained. All the usual overnight stops for travellers (Mai Chau, Son La, Dien Bien Phu, Lai Chau, Tam Duong and Sapa) have decent hotels. Although that in itself may be a reason to try the other places.

The road to Mai Chau is generally good with great views as you go over the passes into Mai Chau. After Mai Chau the road disappears up into the forested Pha Ly pass and you will see the local branch of Flower H'mong. The road then descends into the Moc Chau valley famous for its milk and then onto the Black Thai dominated area around Son La. Although you may see a few Black Thai women in the town market, the best place to see them is a little further on at the early morning market Thuan Chau. From Thuan Chau the road winds up the Pha din pass affording some breathtaking views of the countryside. Crossing into Lai Chau province the roads descends into Tuan Giao where you will start to see colourful White H'mong ladies identified by their red and orange tasseled headscarfs.

From here you can cut over the mountains directly to Lai Chau or make a detour to the rapidly expanding settlement of Dien Bien Phu. It is interesting to note that since the provincial capital changed from Lai Chau to Dien Bien Phu, the latter has undergone a boom into another large nondescript Vietnamese town while Lai Chau has become very sleepy nestled in it's fertile valley. Either route should take you past Red H'mong and Black and White Thai villages. From Lai Chau you can take a side trip on the road to Muong Te which features a number of ethnic minorities mainly from the Sino-Tibetan language families and therefore outside the scope of this web site.

After Lai Chau the road follows the picturesque Nam Na river valley and you will start to see the local White H'mong (Sin Ho) ladies identified by their peaked black turbans, possibly working on the road. You can also take a detour to the Sunday market of Sin Ho to see a whole range of minorities such as Red H'mong, White H'mong, Flower H'mong, maybe a few Lu from further north and some of the colourful Dao Khau, who are spread between Sin Ho and Tam Duong. Continuing on the main road (4D) you can get to within 10 kilometres of the Chinese border before turning off south past the rolling hills and limestone peaks on the approach to Tam Duong. On this road you may also be lucky enough to see some Ha Nhi people.

Tam Duong is becoming a popular stop for people on the north west loop and as a day trip for those coming from Sapa and therefore it won't be too long before its two basic hotels are superseded by grander ones. The reason for its growing popularity is because it is an excellent place to watch a variety of the ethnicities seen before but also Lu and Giay. There are also a number of villages of various minority groups within easy reach of the town. From Tam Duong the road climbs steadily over the Giang Ma pass into Binh Lu, a bustling and fertile area with a number of villages and ethnicities in evidence. At Binh Lu you will see Black Dao women and the huge massif of the Hoang Lien Son range in front of you. From here it's straight up a new but extremely picturesque (if it's not foggy) road to the hillstation of Sapa. If this all seems a bit tame for you, you could always turn off right after Binh Lu and take the much more challenging route back to Hanoi on the bone crunching route 32 right through the Hoang Lien mountain range.

I won't say too much about Sapa as information is readily available in all the tourist literature, suffice it to say the place is a magnet for tourists and minorities alike - mainly the Black H'mong and Red Dao, but also a few of the very colourful Flower H'mong of Lao Cai. From Sapa you can go down the mountain, put your bike on the train at Lao Cai and have a good nights sleep (depending on carriage) and be back in Hanoi first thing in the morning.

Hoang Lien Mountains Route (in red)

The Hoang Lien Mountain Range route is easily the least travelled of all the routes in the north. The reason is simple - the road. Although it is being upgraded in places, and from Hanoi to Nghia Lo is tarmacked, some parts are impassable to four wheeled traffic (after Phu Yen) and the rest is just downright rough. Having said that, it is certainly doable and has some pleasant hotels in Phu Yen, Nghia Lo and Than Uyen. (You can also stay in Mu Cang Chai, but the hotel is very basic) and of course the landscape is stunning. Especially when you cross over the spine of the mountains between Tu Le and Mu Cang Chai. And of course the Minority people are something special.

Like the North West loop, you go from Hanoi stopping the first night in Mai Chau. In Moc Chau however you fork right and take the new road to the reservoir, past rolling hills which at the time of writing had been completely denuded. The road is quick however and you are soon waiting for the vehicular ferry to the other side of the Hoa Binh reservoir. Again, on the other side the road is mainly good until the village of Gia Phu where you will see a few women from the local branch of the Flower H'mong often with false hair - similar to the Red H'mong of Lai Chau. The road from here to Phu Yen is rough but not too bad and crosses some beautiful paddied countryside. There is a good hotel in Phu Yen.

After the Phu Yen the road zigzags up to the Lung Lo pass which is only passable to the odd motorbike. This road is really out in the middle of nowhere and not a good place to break down. Barring breakdowns however you will soon join up with the Hanoi -Nghia Lo road which is good. The people around Nghia Lo are mainly Thai - identifiable by the silver clasps on their shirts. However, they don't wear the striking turban of those in Son La province. After Nghia Lo the road is very rough but passes through some great scenery - the Hoang Lien Mountains on either side of the road and pockets of Red Dao and H'mong people. You can stop for a break in Tu Le and then climb up the pass over the mountains. Often there is thick cloud on the north east side but then you burst into sunshine and into a wide valley once over the spine. On this side their are (at the moment ) abundant pine forests and few villages.

After Mu Cang Chai the road follows a beautiful river valley up until the pretty town of Than Uyen where you will meet the local branch of the Red Dao identified by their tasseled headdresses and typical embroidery and the local branch of the White H'mong. After Than Uyen the road follows a wide and beautiful valley hugging the huge massif of the mountains on your right. Closing in on Binh Lu you will see some Lu people and then Black H'mong and also Black Dao. Once in Binh Lu, there will also be a few Dao Khau and then it is the steep climb into Sapa and on to Lao Cai and the Train to Hanoi.

The Far North (in blue)

Only recently discovered by the tourist guides and still needing a permit and guide/minder in some parts, the Far North is set to become a magnet for enterprising tourists in coming years. The reasons are simple. The landscape is stunning, there are reasonable places to stay and there are good main roads (exception being the beautiful but uncompromising stretch between Bac Ha and Hoang Si Phu). From Lau Cai it is a well worn trek up a beautiful valley into the mountain village of Bac Ha. The Sunday market is justifiable famous as a magnet for Flower H'mong women and tourists alike. For the purist however, it may be already getting spoiled by the increasing numbers of travellers'/internet cafes, hotels and handicraft stalls.

One alternative is Muong Khuong, where you will see a more diverse collection of minorities but few tourists. It also has one half-decent hotel. In this area in addition to Flower H'mong you will see Nung, Tu Di, Bo Y and maybe a few Lo Lo women in the market and a number of Dao Tuyen villages in the surrounding hills. The road to Muong Khuong is not quite as stunning as the one to Bac Ha - but still well worth the journey. However you cannot take the road indicated on the map and do a loop to Bac Ha as it first crosses the Chinese border. After Bac Ha the road goes through some even more stunning countryside with valleys and mountains opening up on all sides and Flower H'mong people all over the place. However the road deteriorates badly and it can be a struggle finding the right way over the mountain to Xin Man. It is a relief finding the one good hotel in Xin Man. From here the road follows the beautiful but remote Chay River valley where you are unlikely to see anyone until you reach the next town of Hoang Su Phi, with its large population of Nung. You may also see Co Lao. From here the road becomes quite good and descends the Chay river massif where it joins highway 2 near the market town of Bac Quang. In this region you will often see Red Dao people (southern Ha Giang branch) walking along the road. You may also still see Flower Hmong and Dao Ao Dai in addition to La Chi and Pa Then. Highway 2 is quite a busy road but in good shape and follows the pretty Lo river valley. All the countryside around here is arable and tilled mainly by Nung. You will see their stilted houses with thatched roofs from the road. Ha Giang is quite a long thin town, growing along the banks of the Lo and nestled between limestone outcrops. Here you will have to get a permit to go on - which will involve hiring a guide who is no more than a minder - trying to make sure you stay on the main road, and not do anything too interesting. From here north you will meet increasing numbers of White H'mong people.

The roads north of Ha Giang have only recently been upgraded but are now in great shape and will only serve to attract increasing numbers of tourists and development. About 50 kms out of Ha Giang the road zigzags its way up the amazing Quan Ba Pass - to the aptly named summit at Heaven's gate. The road descends into Quan Ba which is undergoing a facelift into quite a large market town. It's weekly market (Sundays) attracts large numbers of minorities from the hills around. The road then passes through some very scenic countryside until you descend into the very pretty and steep sided valley of the Mien River and the White H'mong village at it's mouth - Kan Ty where you will likely as not see White H'mong ladies working their large looms. After a short gorge the road climbs and opens out into rolling countryside. You will no doubt see a few Dao Ao Dai tilling their fields or leading buffalo along the empty road. The road then climbs another amazingly beautiful forested valley and for a while follows a steep arrett with stunning views on both sides. You then get a great view down into Yen Minh - the first town of any size on this road, picturesquely sited in a large valley some 98 kms from Ha Giang. It makes an excellent overnight stop.

Just beyond Yen Minh the road forks. You can take either road as it forms a loop on to Dong Van and Meo Vac. If you take the right fork you will soon come to the small village of Mau Due, which often has an interesting market featuring a lot of the local Red Dao (Northern Ha Giang Branch) people. If you take the left fork you will climb the amazing Lang Si pass and continue to see pockets of White H'mong people. From here the countryside takes on a surreal feel with plenty of soaring limestone peaks and fields littered with amazing jagged rocks between which the locals struggle to till what they can. Soon the road skirts the the tiny Sa Phin valley which has at its centre a clump of bamboo which tries to hide the ancient H'mong royal house (Vuong Palace). Simply because it is bigger than a normal house, looks quite old and made of solid brick, architecturally is seems very much out of place. The Palace itself is quite interesting and there are also a number of tombstones surrounding it which are worth a look.

From here it is not far to Dong Van which in common with a lot of Vietnamese towns is undergoing modernization (read uglification). In addition to the dominant White H'mong you may also encounter some Giay, Co Lao, Pu Peo and Lo Lo (although I found most Lo Lo now wear modern Vietnamese clothes). Between Dong Van and Meo Vac is probably the most stunning piece of scenery in northern Vietnam - the Ma Pi Leng Pass. Don't go if you're afraid of heights as it seems the road simply clings to the side of a cliff in places looking out for miles over the hills of China. The gorge then becomes very tight and steep and then you descend into the pretty valley enclosing Meo Vac. At the moment Meo Vac is still a friendly little town with a bustling market at it centre but no doubt it is due for development in the near future, despite the benevolent gaze of a large golden Uncle Ho. Rounding the corner and coming back to Yen Minh the direct route, you pass through Lung Phin known for its weekly market. It is also a major tea producing region.

From Ha Giang you could go back to Lao Cai and the train but an alternative is to follow the wide Lo River right down into Tuyen Quang Province and maybe onto Yen Bai. In Tuyen Quang you are likely to run into some pockets of the striking White Dao ladies. After Tuyen Quang however the road is not so interesting and becomes much busier the closer you get to Hanoi.

The North East Loop

The North East Loop is the second most popular touring route but still way behind the North West. And if you take the back road to Lang Son and on to Cao Bang you are unlikely to see many foreigners.

The journey starts from Hanoi with a two and a half hour drive to Thai Nguyen along a busy but quite pretty road. Taking the back road from here to Lang Son things quickly change - the only vehicles you will see are Minsks and the road can get a bit muddy. The scenery is pretty good though and you will probably bump into a few Shaven Headed Dao. There is no official hotel in Bac Son but the locals will usually allow you to stay in the Government rest house after a bit of chat and arm twisting. The road here is not so much a problem unless they are upgrading it (which is happening EVERYWHERE in Vietnam) and you get a bit of rain. The scenery around here is very pretty and you will start encountering the 'sugarloaf' limestone outcrops common around Northern Vietnam.

Lang Son is another bustling border town with an interesting market selling a lot of Chinese goods. Across town in the Cao Loc area you will encounter the colourful Nung Phan Sinh, and probably a few more Shaven Dao. From here you can take a day trip to Mau Son - following a pretty river with plenty of rural scenery. Driving around Lang Son you will also no doubt encounter more than average numbers of pigs strapped to small bikes, roast pig being a delicacy of the region. Mau Son used to be a French hillstation and is now undergoing a renaissance as a Vietnamese one with a number of new villas springing up around the tiny peak. If the weather is clear you can see for miles around. However we don't have time to dally here as we head off North West along the Chinese border to Cao Bang.

The road is pretty rough in places but this is compensated by stunning scenery - the road is enclosed by huge limestone sugarloaves "Halong Bay on Land". Along this road you are likely to meet quite a few Nung people and Tay. Cao Bang town itself is not bad - not too many new buildings spoiling the place and a few remnants of colonial architecture in the old town. The surrounding area is quite pretty as well with lots of paddy fields and a backdrop of limestone peaks.

There are also a number of day trips to be done around Cao Bang including some markets - however as they follow the lunar calendar you'd better asks locals for times. Also the minorities are mainly Tay and Nung so they are not that colourful. One of the best day trips is out to the Ban Gioc waterfall - which although not high is very impressive. It also marks the border with China and it is interesting to note that you will probably be the only person on the Vietnamese side but there will be loads of Chinese on the other side. You have to get a permit to visit from the Police Station on the road out. The road there and back (you can do a loop) is very picturesque with plenty of beautiful valleys, some amazing passes and also the road is in good shape. There are plenty of Tay and White H'mong around but also in the valley of Phuc Sen, 37 kms from Cao Bang you will also see quite a few Nung An people, either working their fields or walking along the road.

From Cao Bang take the road south to Ba Be. There are the usual amazing passes to cross and you will no doubt encounter a few Coin Dao (Dao Tien). The hills around here are still mainly forested and so it is very picturesque. The road to Ba Be is probably finished by now which will cut down on time. Ba Be has been a tourist destination for a while and rightly so. The lake is very picturesque and you can stay in the national park in a stilt house or in the nearby village of Cho Ra and go on boat trips. There are also a few village markets dotted around where you are likely to see mainly the local branch of White H'mong - slightly different to those seen north and west, in addition to Tay and a few Dao. The back road south of Ba Be to Thai Nguyen is one of my favourites as there are few people but thickly forested hills for miles around - quite rare in Vietnam. And then it's back to Thai Nguyen to visit the excellent Museum of the Cultures of Vietnam's Ethnic Groups to check out who you've seen.